CARLTON TRAVEL ASSISTANCE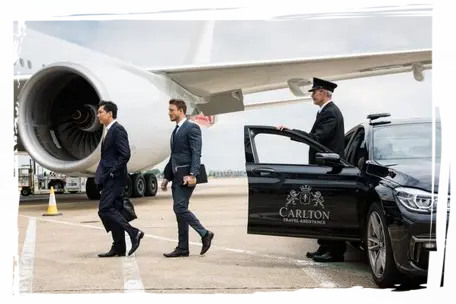 Professional organization of the process of meeting and seeing off VIPs in the buildings of airports in different countries allows us to solve many organizational issues. From saving time for passport control and baggage clearance to VIP lounge service.
Our representative will inform you about the full range of services that you can use when ordering VIP service at airports
We list the most popular:
transfer to the point of arrival (departure) - minibus, car of the required class with a driver
express customs clearance
two-way translation into required foreign languages
providing VIP clients with business rooms, meeting rooms with all the necessary communications
support program in case of unforeseen circumstances (providing medical assistance, legal advice, etc.).
VIP service at airports is not only the comfort of passing through registration or border control.
Security, the provision of services at the highest level, an individual approach to serving VIPs, compliance with the norms of diplomatic etiquette and incognito status.
Carlton Travel is a company that forms the market for services in the business travel segment. For more than 15 years we have been working in the field of providing quality service for private tourists and corporations with a worldwide reputation and authority.
Receiving and servicing official delegations, foreign partners of your company from the moment they arrive at the airport is our responsibility.
VIP service at airports for regular customers is most often provided as part of a comprehensive offer in the direction of "business tourism". A separate application for VIP escort at the airport without an accompanying list of services is implemented in the same quality of service format as work in the VIP category under the extended program.