CARLTON TRAVEL ASSISTANCE
ORGANIZATION OF CORPORATE TOURISM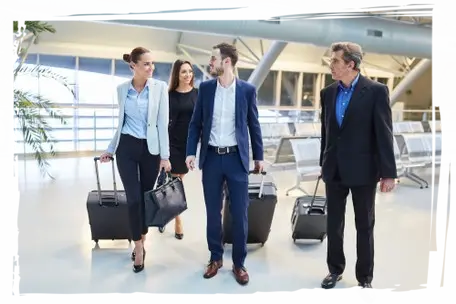 It is not right to consider organizing events according to the MICE (Meeting-Incentives-Conferences-Events) classification as frivolous and purely entertaining.
Of all types of tourism, trips with various forms of interaction both within the team and with partner companies confidently demonstrate successful experience and effectiveness from the professional implementation of trainings and workshops.
Directions Meeting and Incentives
Whatever format of business meetings is required, in these categories the comprehensive service for corporate events is the most complete.
organize a visit of foreign representatives

gather the best employees of the company, a whole branch or a small department on a tour of Europe, Russia and the CIS, or choose a city anywhere in the world

develop an individual project for a corporate holiday with trips abroad, visits to exhibitions, museums, theaters
The corporate tourism program may vary depending on the etiquette adopted by the company, the budget and other conditions. On the part of Carlton Travel, the conditions of the options provided, an integrated approach to the implementation of programs will remain unchanged.
booking air tickets, railway tickets

organization of transfer, rent a car

booking of hotels, VIP services

visa processing

customer support service 24/7
Important!
Regardless of the chosen category of corporate tourism, the guarantor of a successful outcome of an unforeseen situation has been and remains the correct medical insurance issued by a reliable company with a wide range of coverage.
In the modern world, the format of additional education is no less important than obtaining a basic, profile one. Training today is an effective opportunity to combine learning, free-form communication and exchange of experience with colleagues and lecturers.
Educational programs. Provided by Russian and foreign business schools as part of corporate tourism, they cover the most important aspects of the development of structural divisions and companies in general.

Team building. Informal communication of employees in an unusual environment contributes to the disclosure of the abilities of managers, heads of departments. Educational corporate tourism is highly valued by foreign partners. The participation of the owner of a multi-billion dollar enterprise in a corporate event is not surprising. Large Russian companies that have adopted this experience are reaching the global level of development.
Contrary to a common misconception, when such a definition means the usual corporate parties, the segment offers almost infinity of options for encouraging employees working in the company:
Ceremonial dinners

trips to the resort

sports activities (mountain camp, rafting, water sports, etc.)

visits to historical sites

other
Corporate events are not limited by geography, and if a certain number of people on a business tour are abroad, one of the types of events will be a logical conclusion to business trips.
Corporate tourism for companies is an occasion to take a break from working moments for a while. For us, this is a complex of important and necessary actions. Starting from the approval of the project, to the final analytics and report on the expenditure of funds.
professional knowledge - Direct contracts with airlines, hotels, accommodation.

accreditation in IATA - Accreditation in the International Association of Air Carriers
Corporate tourism, business travel and any other type of business travel is always risk-free with round-the-clock online support with various types of services.